4NHTA-F18 Duplex Pump is Special Made for SoCal Sewer Lift Station Project.
Cornell produces thousands of pumps per year—and many have special features or design components. Cornell is happy to supply our distributors and customers these custom built solutions—it's part of our customer service philosophy.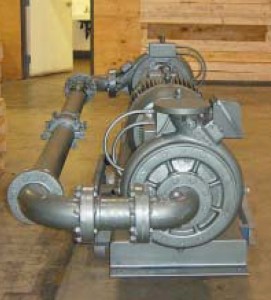 A Southern California distributor had just such a special request. They required a horizontal duplex-tandem pump with 4" piping for a sewer lift station on the coast. The centerline single volutes, suction covers, backplates, and impellers all had to be ductile iron to deal with high pressures and abrasive waste water. The installation also required a specified inverter duty to allow the motor to run at different speeds and a double extended steel shaft.
The 4NHTA-F18 duplex pump was powered by 75 Horsepower motor.
The total pump weighed more than 2,400 lbs—quite heavy for a 4 inch pump, and required a specially designed and built skid to support it.
Custom work like these is a forte of Cornell Pump Company. We can use our experience in other installations to find unique solutions—as well as provided tried and true standard products from 1.25" to 30" discharges.