Cornell Pulse is an excellent tool for those who want to check their pump's health quickly. It's a compact, wireless device that can measure the pump's vibration severity and temperature in real time. All the helpful measurements can be viewed through a mobile app, which is available for phones and tablets. When used with RPM², Pulses report data to the cloud and track pump conditions, including the GPS location where the scan occurred. Detecting common pump problems is essential to increase the lifespan and efficiency of the pump. The Pulse is a durable and long-lasting unit, lasting around three years with daily measurements.
Improving efficiencies for longer lifespans.​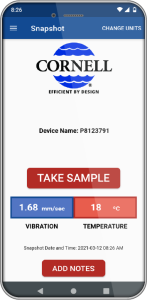 Pulse is a free mobile app included on all Cornell Pumps* without a Co-Pilot free charge.
If you want to retrofit a Cornell (or other brands) pump, please get in touch with pulse@cornellpump.com for pricing and availability.
Phone (503) 653-0330 — generally available 7:00 a.m. to 4:30 p.m. Pacific time, Monday through Friday. We are closed on US holidays.
*Pulse is attached to all pumps where the submergence and operating temperature allow. It may be excluded from specific turbines, refrigeration, hot oil, and submersible pumps.