The winters can be brutal in British Columbia, especially at 7000 feet up a mountain. A BC-based coal company had a problem with dewatering, and needed Canada Pump and Power to provide powerful pumps—QUICKLY!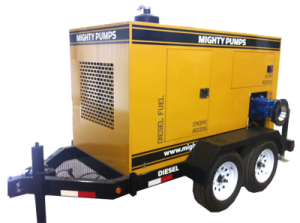 Even with the remote location 746 miles (1,200 Kilometers) from BC's main coastal cities, Canada Pump and Power was able to rush pumps to the mine location and begin pumping 7.39 million gallons per day (33,600 cubic meters of water per day) within 36 hours of receiving the emergency call for pumps.
The distributor laid over 7,000 feet of Bauer pipeline by hand to transport the liquid away from the mine site to a holding area. Two Cornell 6NHTA pumps working in tandem were able to address the issue of flooding.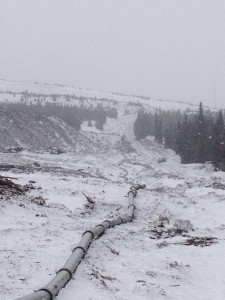 The 6NHTA has up to 300' (91m) of head, and pumps up to 3,130 gallons per minute (11,860 liters per minute), has a 8" suction and 6" discharge, features a two vane enclosed impeller, handles solids up to 3" (9cm) in diameter. Canada Pump and Power built the 6NHTA onto a high performance trailer package, which runs at 2,000 RPM with a Cat C4.4 continuous electronic engine operating at 142 HP. Once they had received the emergency call, the distributor transferred the pumps from an Alberta staging yard to the site.
Cornell is able to address pumping needs from the bitterly cold northern British Columbia to tropical sub-Saharan Africa because of our quality pumps melded with great distributors like Canada Pump and Power.