4HC Redi-Prime® Engine Mount 18DB-3 pump serve as heart of firefighting equipment in oil refinery.
After a devastating flood on the Maleh river, a Mohammedia, Morocco based oil refinery had more than brackish water to clean up—the ensuing flood had sparked a serious fire in the refinery's storage area.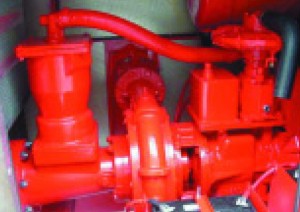 Shaken by the devastation, the refinery set about creating an emergency fire wagon that could be rapidly deployed to fight fires, as well as used in dewatering. To accomplish this dual purpose, a Cornell 4HC Redi-Prime® Engine Mount 18DB-3 pump was coupled with a Cummins engine, and placed on a trailer. Painted a bright 'fire-engine" red, the pumps stand out. Able to be rapidly moved around the facility, the pumps could easily move thousands of gallons of water per minute to combat a potential devastating fire. Using the attached hoses and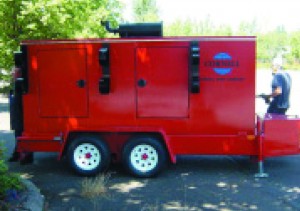 system, the pumps can also serve as dewatering pumps should the storage area again be inundated by flooding.
The refinery is producing more than 125,000 barrels of oil per day, and looking to expand. Having several of the 4HC pumps outfited to fight fires, helps them more effectively meet the risk concerns of the plant.