30NNT-VF30 Pump helps California City with Waste Water
A city in northern California wanted to install a brand new reclamation system to be in compliance with state requirements. Building a new facility, rather than simply adding a pump into an existing system allowed them to consider numerous manufacturers.
Cornell competed against three other well-known manufacturers. When the design engineer firm looked at performance, with the pump designed to flow at 24,300 GPM at 38 ft of TDH, the Cornell 30NNt-VF30 came out on top.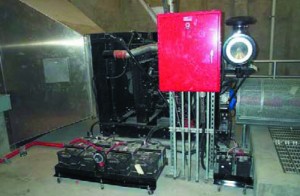 Paired with 30NNT-VF30 was a vertical Johnson Power line-shafting, a De'Ran right angle gear drive, horizontal Johnson Power line shafting, and a Cummins 360 HP diesel engine. Cornell also supplied a Murcal control system, Tramont double-walled fuel day tank, battery racks, batteries, chargers, and components for the stainless steel exhaust system.
The system was put through extensive review in Cornell's test lab, as well as undergoing a rotor dynamic analysis of the entire drive train, anchor bolt, and seismic design calculations, and field vibration tests.
All work went off without a hitch, and the system has operated successfully for more than two years.