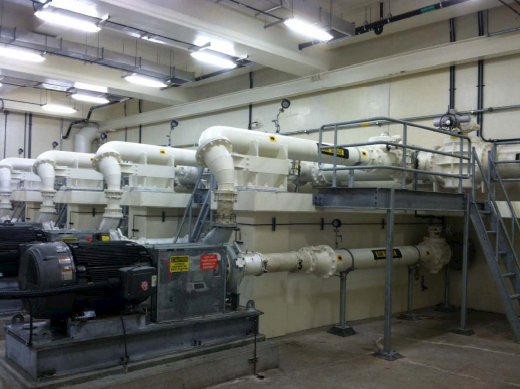 The Problem: Three (3) Cornell Model 6NHTB's had been installed and working
at the site since 2007. The original operating conditions were 1800 gpm @ 97 feet TDH for each pump, at 1200 rpm. The station had been experiencing flow interrupting blockages 1 – 2 times per week, caused by excessive amounts of non-digestible, uncommuted solids in the collection system. Each blockage required extra labor to clean the pumps and reductions in flow resulting in extended run times. Of the three pumps installed, the third pump in the trench-type wet well was experiencing virtually all of the solids handing problems.
The Solution: Cornell Pump Company installed a Cutter modification to the 6NHTB in Pump #3. The modification was done in the field and involved the installation of a new impeller with rotating cutter ring, stationary cutter assembly, and modified suction cover. The entire conversion took less than 6 hours.
End Results: Since the installation of the Cutter components, not a single service interruption or pump clean out episode has been reported. Additionally, the modification was done without a change in motor HP and a minimal impact on pump efficiency. The Cutter modification allows the use of the original, enclosed impeller design, allowing the site to continue operating as designed.