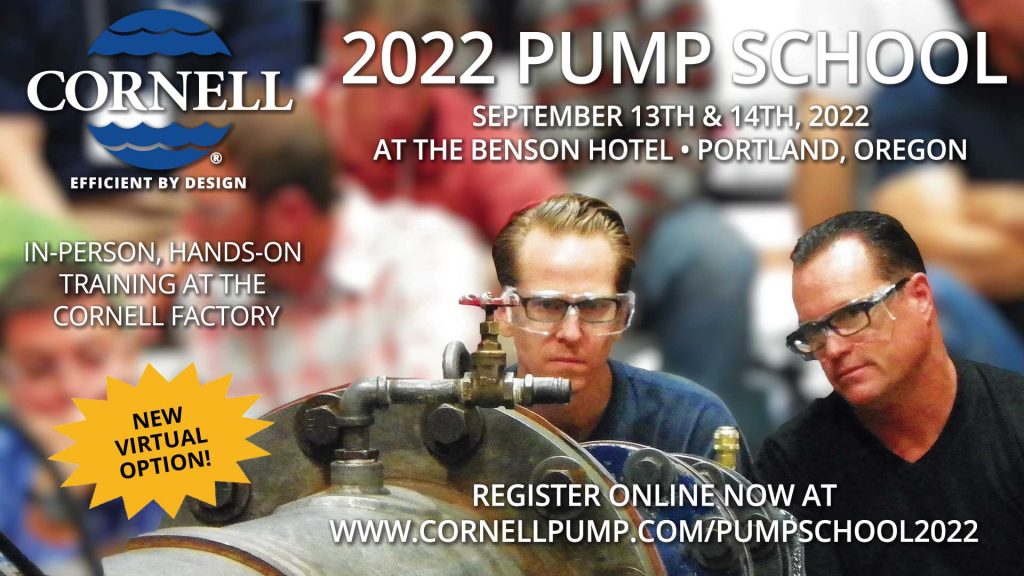 Since 1949, when Cornell co-founder Clint Warren first started giving classes on hydraulics and pump operation, Cornell has trained tens of thousands of engineers, operators, end-users, distributors, and others on how to more successfully operate their pumps, reduce energy costs, and increase system life.
Pump School takes place Tuesday, September 13, and Wednesday, September 14, 2022. It will also include a Monday night reception for those registrants available to attend. The school is in-person in Portland, and offers great instruction and networking.
Cornell also realizes that some may not be able to travel to Portland with continue COVID risks and restrictions; for 2022 we are offering a virtual option as well.
The in-person event is capped in attendance though, and space is filling up quickly. Signup-up now, so you don't miss out. There are eight plus hours of instruction on Tuesday, a half day of factory training on Wednesday, and then a half day of either classroom training or advanced factory training (registrants pick). 

We offer basic and advanced tracks, and this year are offering some specialized sales training on Wednesday afternoon (this section is not available virtually.) 

You can register here: https://www.cornellpump.com/events_archive/pumpschool2022/ , and find additional information about the school.