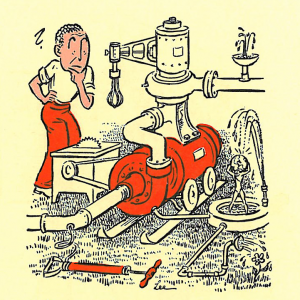 Cornell Pump sells thousands of pumps each year—and every one of them has to put into service for the first time in the field or at the installation.  Pumps also need to checked if they have not been used for a period of time, for instance, after the last growing season.
To aid operators, we go over start-up procedures at our pump school. Following is a checklist of activities, in order of action, that we have found will help a start-up go smoothly.
Whether you've never started up a pump before, or you're an old-hand at hydraulics, this 18-point check list can help ensure your next pump start-up is trouble free. And, if you'd like more training about start-up and other operation/maintenance related topics, consider attending the Cornell Pump 2017 Pump School. It will be held January 24 and 25, 2017 in Portland, Oregon. Get more information about Pump School 2017.
START-UP CHECK LIST
Re-read all instructions and check for compliance on each point.
Piping must be clean and free of debris and obstructions, gaskets in place and all joints secure.
Are all thrust blocks and supports adequate?
Are screens in place?
Check the valves and blow-offs for proper position.
Make sure support systems are in place and functioning, such as special lubrication, frame oil, etc.
Check the power supply voltage with the motor name plate.
Are belts and shaft couplings properly adjusted and aligned and guards in place?
Does the pump rotate freely?
Prime the pump.
Check pump rotational direction.  (VERY SHORT on/off power pulse).
Comply with all seal or packing operation and start-up instructions.
Monitor the motor temperature.
Note the operating temperature of frame bearings (if any).
The pump may be checked for shut-off pressure with the pump performance curve.
Fill the system slowly.
Do not operate any pump without properly priming it, unless it has been specifically designed for such operation.
New pumps must not be started and stopped frequently.  If possible, permit the unit to run until operating temperature is reached.
NOTE: Large motors must not be started and stopped more than five times per hour.
A pump must not be started until compliance is reached on all the applicable points above and any others specified in the "Operation and Maintenance Manual" supplied with the pump. Failure to do so may cause severe damage to equipment and/or personal injury. It may also void the warranty.
This is a first in a series about pump-start up considerations. Look for additional articles over the next several days.