Cornell offers a wide range of solids handling pumps, from 1.25″ though 30″ discharge size, to handle the most difficult solids applications. Cornell's solids handling pumps can be found in a wide range of applications in the Municipal, Agricultural, and Industrial markets; and available in a variety of mounting configurations including close-coupled, SAE engine, horizontal, and vertical mounted. Featuring enclosed, semi-open, and delta impellers, and a variety of construction materials, Cornell solids handling pumps operate up to 40,000 GPM.
Legacy Solids Handling Pumps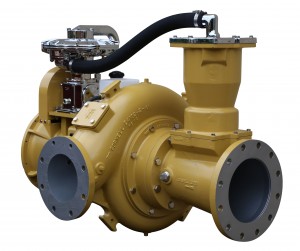 Cornell's N-series solids handling pumps are available in discharge sizes from 1.25″ to 30″, and are designed to handle difficult solids handling applications. A range of mounting configurations are available, from close-coupled, SAE engine-mount, and horizontal frame-mount, to vertical and vertical coupled.  Featuring enclosed impeller (2" to 10" solids, and flows up 40,000GPM), N-series can also be fitted with a delta impeller to handle stringy materials, rags, etc. Robust and reliable, the N-series has more than 30 years of service as a waste-water handling favorite of the industry.
MP-Series Pumps
MP-Series Pumps are designed to handle coarse abrasives while providing robust service life in a slurry pump. Cornell Pump Company's MP Mining Pump Series combines 70 years of innovation in pump manufacturing and design, with our highly regarded patented Cycloseal® technology. Offering high operating pressures, the MP pumps are specifically designed for coarse abrasive slurry applications such as sand, gravel, coal, manure, and mine dewatering. The oversize shafts, thick volutes, CD4MCA impellers, and other features allow it to operate in harsh conditions longer than a standard slurry pump.
SP-Series Pumps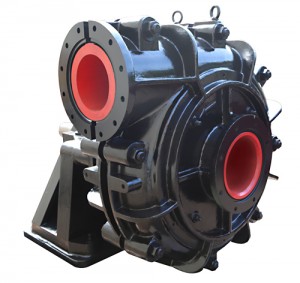 Cornell's SP Series Slurry pump brings patented Cycloseal® technology to the mining process industry. Adding to the diverse range of mine dewatering pumps, The SP Series Slurry pump offers a Cornell solution to abrasive applications throughout the mill process. Available in rubber and metal lined configuration to handle various particle sizes, and pH requirements.
Duraprime Series
Cornell Pump's Duraprime® series of robust construction pumps, in 3″, 4" and 6" models, are ideal for rental and construction applications. The Duraprime series feature a rebuild-able pump design, robust construction, efficient operation and competitive pricing. Series comes standard with Cornell Cycloseal® sealing system and the Venturi Prime priming system integrated. Duraprime brings Cornell quality, while offering low-operating costs, premium efficiency up to 82%, and ease in servicing and maintenance. Featuring a two-year warranty, DuraPrime® requires no seal venting or flushing.
Hydro-Transport Pumps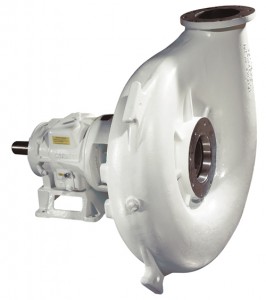 Cornell introduced the first Hydro-Transport food process pump to the industry nearly 50 years ago. Unlike Solids Handling pumps, or other types of pumps that are sometimes used in the food industry, the Cornell P and PP series pumps are designed and manufactured with the sole purpose of pumping food products. Utilizing Cornell inventions such as offset volute, Cornell Food Process pumps have the lowest product damage rates in the industry and are the pump of choice for food processors around the world.
Chopper Pumps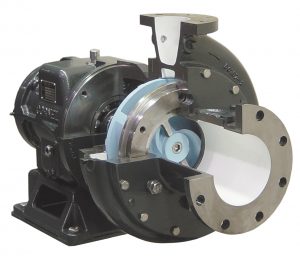 Cornell's Chopper Pump  is designed to handle severe plugging. The standard casing, made of ASTM A536 grade 65-45-12 ductile iron, stands up to robust applications. Everything about the pump is built to tackle hard jobs, from the replaceable cutter bar made of T1 tool steel heat treated to a minimum of 60 Rockwell C hardness, to the heat treated cast steel impeller. The Cornell Chopper pump series is a heavy-duty performer.
| | | | | |
| --- | --- | --- | --- | --- |
| Model | Discharge | Suction | Solids Handling | Data Sheet |
| 4NC | 4" | 6" | 1.25" | Data Sheet |
| 6NC | 6" | 8" | 2" | Data Sheet |
CD4MCu Pumps
CD4MCu is a stainless steel with corrosion resistance equal to or better than 316 SS, but with double the yield strength. It's a duplex (two phase) stainless steel, while common grades of stainless steel, such as 316, are single phase. This provides the corrosion resistance of 300 series stainless steel with the strength and hardness of 400 series stainless steel. CD4MCu allows pumps to be used in more abrasive applications with better resistance to corrosive cracking and pitting.  Features include:
Corrosion and pitting resistance

Higher strength than standard grades of stainless steel

Improved ductility and weldability

Better resistance to embrittlement
---
Related Literature